Curriculum
INTENT – Why do we teach what we teach?
At Sprites Primary Academy, we have developed a bespoke curriculum which we have called the 'Fearless Curriculum'.
It is fearless because it has no barriers, instilling and encouraging the highest aspirations for our pupils. It tackles the hard issues of our time, challenging our young minds to use all of their analytical skills to think for themselves. For instance, each half termly unit starts with 'The Great Debate' – a deliberately provocative stimulus to engage and motivate our pupils throughout the unit. Our school Life Values – Safe, Polite, Aspirational – permeates our curriculum, emphasising their importance to our whole school ethos.
We place a strong emphasis on teaching all of the subjects and more (Forest School) and not narrowed to the teaching of core subjects such as English and Maths. It is rich in knowledge, skills and understanding so that our pupils have all the tools necessary to grow as learners and as individuals in an ever evolving modern world.
IMPLEMENTATION – How do we teach what we teach?
In order for our pupils to retain and recall information, the curriculum has a '3D' element to it (see diagram below). This connectivity and careful sequencing of knowledge and skills ensures that throughout their time at Sprites, children are constantly making links with all areas of learning. Teachers use a range of teaching styles, resources and assessment systems to ensure the highest standards of teaching and learning.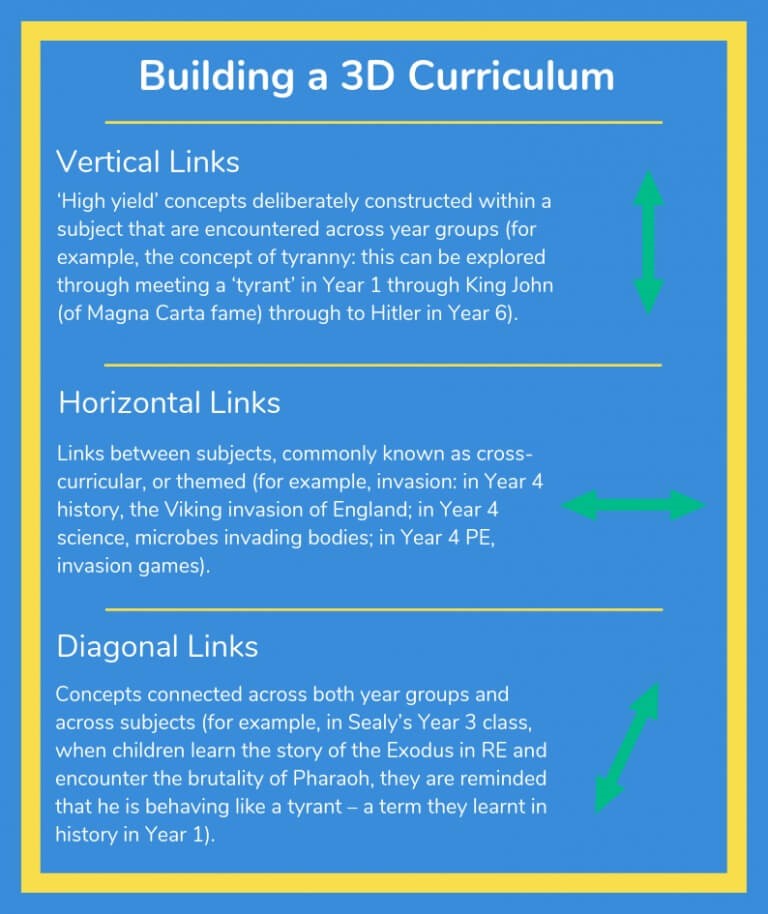 IMPACT – What is the impact of what we teach?
The impact of our curriculum is that children will leave Sprites having reached their potential and with unbounded confidence. As well as academic achievement, we want our pupils to excel in their own passions across sport, drama, music and art.
We also want to teach our children about their role in the world, to learn lessons from the past, enjoy today and leave a positive legacy for future generations.
If you would like more information about our curriculum, please contact the school using the details on the contact us page.