Curriculum Rationale
INTENT – Why do we teach what we teach?
At Sprites Primary Academy, we have developed a bespoke curriculum which we have called the 'Fearless Curriculum'.
It is fearless because it has no barriers, instilling and encouraging the highest aspirations for our pupils. It tackles the hard issues of our time, challenging our young minds to use all their analytical skills to think for themselves rather than be given standard answers. For instance, each half termly unit starts with 'The Great Debate', a deliberately provocative and controversial question to engage and motivate our pupils throughout the unit. By tapping into current affairs, debate, oracy, storytelling, our curriculum nurtures this inquisitive mindset. Pride of place is given to our ever-present school Life Values – Safe, Polite, Aspirational – interwoven into our curriculum, emphasising their importance to our whole school ethos and in preparing our pupils to become empathetic, outward-looking, global citizens.
We want our children to know more and remember more. Knowledge, skills and understanding are carefully sequenced by subject and topics to build and add to pupils' competencies. In order to deepen understanding, children explore 'concepts' rather than isolated objectives (see diagram below). They enable children to hang their ideas on modern issues, revisit ideas and make connections with all areas of learning. We place a strong emphasis on teaching all of the subjects and beyond, not narrowed teaching of core subjects such as English and Maths, thereby ensuring the curriculum at Sprites is both fun…and fearless.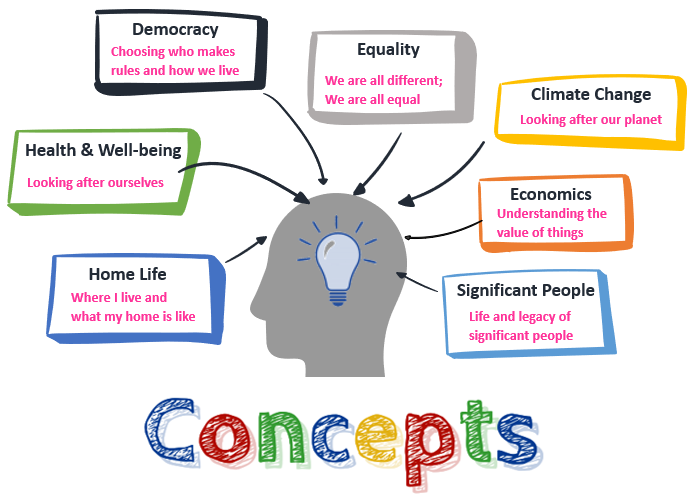 IMPLEMENTATION – How do we teach what we teach?
In order for our pupils to recall and retain information, the curriculum has a '3D' element to it (see diagram below). This connected sequence of knowledge and skills, encapsulated by the seven concepts, ensures that throughout their time at Sprites, children are making constant and powerful links in their learning.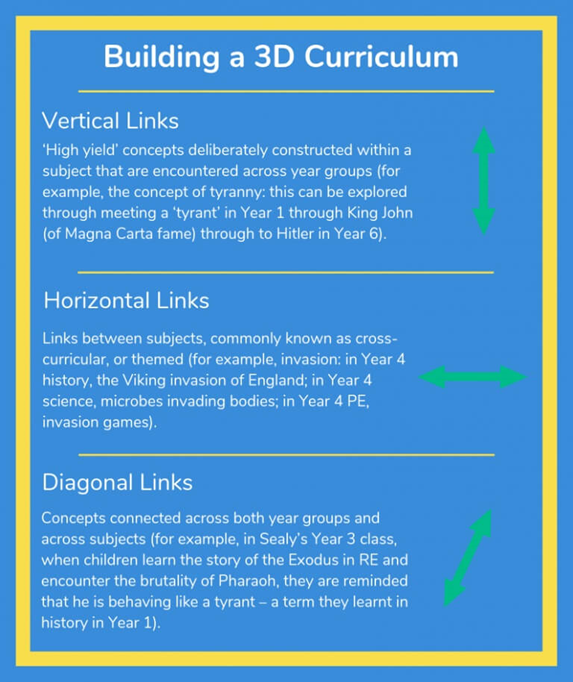 Teachers then use a range of teaching styles, resources, assessment, and training to ensure the highest standards of teaching and learning. Within a consistent core offer, teachers and pupils are encouraged to show flair, embrace creativity and be themselves!
IMPACT – What is the impact of what we teach?
The impact of our curriculum is that children will leave Sprites having reached their potential and with unbounded confidence. As well as academic achievement, we want our pupils to excel in their own passions across sport, drama, music and art.
We also want to teach our children about their role in the world, to learn lessons from the past, enjoy today and leave a positive legacy for future generations.